Before I get into introducing you guys to a most delicious recipe - I have an announcement to make!
Me and my hoecake, Heather are hosting a one day link-up tomorrow in honor of Thanksgiving.
Allow me to introduce you to "...And I'm also thankful for"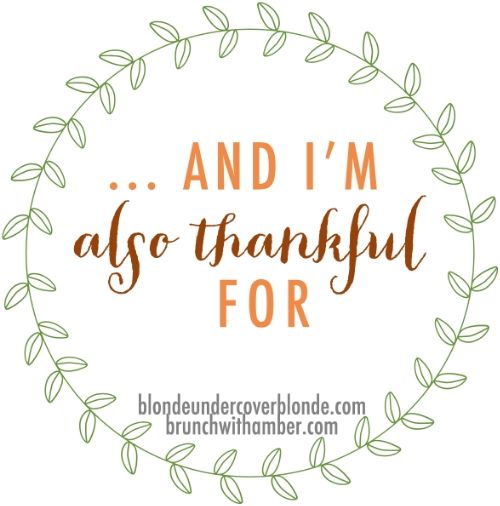 Basically, we know you're thankful. Everyone is this week. But we want to hear about those little things most people don't talk about. Sure, you're thankful for your friends, family and job, but what superficial things are you thankful for?
Grab the button for your post, and don't forget to come back tomorrow to our blogs to link up your post. We can't wait to read them!!
*****************************************************
Now, onto the yummy stuff...
The weather lately has made me crave all things wintry. Not only do I feel like baking up a bunch of pies, but I'm also wanting some hearty stews and soups to go with them.
The ingredients you need are as follows:
1 lb stew meat
1 can chicken broth
1 can beef broth
1 can corn (juice drained)
1 can green beans (juice drained)
6-8 small red potatoes
Flour
Olive oil
Chili powder
S&P
If you'll notice above, the potatoes aren't shown. That's because I forgot to take a picture before I got started on them. I do the potato step first.
I wash the potatoes, cut them into bite-sized pieces, put them into the pot and cover with cold water. I get them boiling and boil until they are fork tender which is approximately 10-15 minutes. This saves tons of time later when I don't have to wait for them to cook once they are in the stew.
Next, I trim the fat from the stew meat and cut any bigger pieces into bite-sized pieces. Then I put the meat into a bowl with enough flour to coat the meat. The flour acts as a thickening agent in the stew later.
Then, shake off excess flour from the meat, pour a couple of teaspoons of olive oil into the skillet and brown the meat. Once it's nice and browned, pour the can of beef broth in the skillet. I let this simmer for about 5 minutes.
Afterwards, you'll pour the meat/broth mixture into a big pot and then pour in the can of chicken broth. (in the picture above, I know I have a huge container of chicken broth, but I didn't use that. I only use around 15 oz)
After the mixture is warm, add in the cans of corn, green beans and your potato pieces from earlier. Add salt and pepper to season.
Once the veggies are softened (approximately 20 min) I add in chili powder. As much as you'd like. Some like it spicier than others.
Then I let it simmer for 20-30 minutes to thicken.
I'd love to hear how you like this recipe if you try it out.