Hey guys! Happy Turkey Eve! Since we'll all be chowing down on yummy goodness tomorrow, we're sharing what we're thankful for today!
Grab the button below and link up with Heather and myself.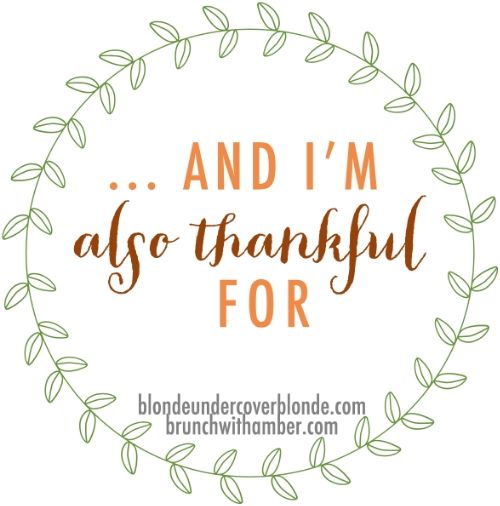 This year, I'm also thankful for...
Package tracking. I am one of those annoying people who check the tracking like every hour when I'm expecting a shipment. I like to know where it is. And when I see that it's been delivered?? Ooooh I get so excited!
Food drive-thrus. Because let's face it, some times after work when I'm out running errands the last thing I want to do when I get home is cook. Chick-fil-a, FTW!
Redbox. I'm almost embarrassed to admit how often we get movies from Redbox. It's basically a daily thing. It's just so dang convenient.
Sleepytime tea. Because sometimes the sleeping pill alone just doesn't do the trick.
Pinterest. How else am I going to find all these recipes to drool over and outfits to have the inspiration to piece together?
Peanut butter oreos. If you haven't had these yet, you're seriously missing out. It's a little slice of heaven that perfectly calms my raging sweet tooth.
Nail salons. This girl doesn't have good nail painting skills. And for whatever reason, it just lasts longer when I get them done at the salon.
Coupons. Saving money excites me way more than it should.
Wine & coffee. Caffeine and alcohol. My 2 vices. They help me make it through the day! ;)
What else are you thankful for this year? Don't forget to link up with us below and spread the word!