Happy Sunday Funday, friends!
I always forget to link up with my sweet friends, Neely and Ashley for Sunday Social. Ok, I typically don't forget.. I'm just too lazy to actually do anything on Sundays. And yes, that means too lazy to open my computer and type up a blog post. I'm pathetic.
This weeks' questions are super fun though, and I had more energy than usual, so here I am! ;)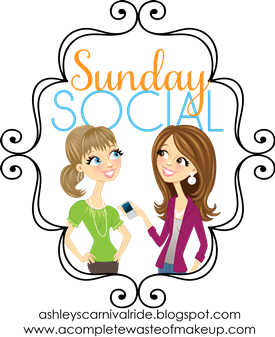 What do you miss most about being a kid?
Definitely not having any worries or responsibilities. Not having to pay bills was pretty amazing.
Did you have a nickname growing up? What was it?
My dad has always called me Bam Bam and my mom either calls me Knickerbocker or Slick Nick. (my middle name is Nicole). My other family calls me Ambi.
What was your favorite thing to do at recess?

Kinda embarrassing - my friends and I used to play a game called "Beach Babes" and we'd lay on the ground in the sand, and the boys would stand at the top of the playground equipment and watch us "sunbathe" and whistle at us. Then we'd run off while they chased us. Yeaaaah. Weird. I also used to stand on top of those half tire things. Ya know, the tires that are half in the ground and you can crawl underneath them. I'd stand on top of those with my best friend and yell out cheers we'd learn at cheer camp.
What did you want to be when you grew up?
If you asked me this when I was 5, I'd have said a synchronized swimmer. When I turned 9, I decided I wanted to be a pediatrician. That was the dream until I was about 19 and realized that medical school was going to be very expensive and HARD.
What was your favorite toy?
I was all about my barbies and my cabbage patch dolls. I also loved my Light Bright. (is that what it's called?) and other typical kid toys.
What is the funniest thing you did as a kid that your parents still remind you about?
When I was 3, we went to the zoo. The flamingos were behind these bars, and I wanted to get a closer look, so I stuck my head threw the bars. Well, I got stuck. Neither of my parents could get my head out, and we had to wait for some people from the zoo to come and help us. Apparently I was like that for quite a while before they were able to get me out. It's a funny story now.
I hope y'all enjoy the rest of your weekend, and relax it up for Monday. It's hard to believe that tomorrow is October!