Who doesn't love coming home to the latest copy of their favorite magazine in the mailbox?!
I sure know that I do, and it's fun to let them pile up and tackle them all at once on a "me day" :)
Neely and I came up with the genius idea to host a magazine swap! How fun is that?!
So, who wants to join us and be paired with someone who will gift you with a fun new mag subscription?
Join us for our 1st Annual Magazine Swap!
It's super simple - you sign up, we pair you with someone, you get to know your partner and shop for their mag and receive your gift. Easy peasy lemon squeezy!
A quick tip: Shopping for magazine subscriptions at Amazon.com is usually the easiest way, as it's cheap and free shipping most times! ;)
The rules are as follows:
1. Must be a follower of Brunch with Amber and A Complete Waste of Makeup
2. Link up your blog below, also listing your email address.
3. Once sign ups close on Wednesday, October 31st, you'll receive an email letting you know who your partner is.
4. Contact your partner and give them 5 magazine subscriptions you'd like.
5. Shop for your goods ($15 max limit), and send it off to your partner by Monday, November 5th.
Ready to get started? So exciting! Link up below and share in the fun with us!!!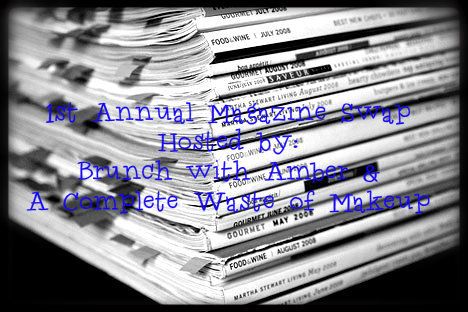 Also, please spread the word by adding the swap button to your blog sidebar and tweeting: "I'm joining @brunchwithamber and @neelykins for the magazine swap and you should too!

http://

bit.ly/TFUMTv"