I'm linking up with 2 of my faves - Meghan & Meghan!
I love that they have a link-up where we can all list our monthly goals out on our blogs, so that way hopefully we will hold each other accountable.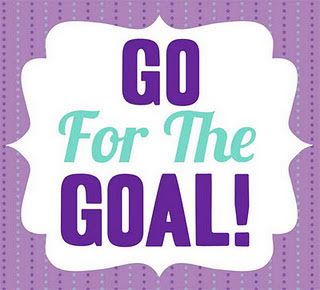 Personal:
Read 3 books - I have slacked a bit this past couple of weeks, and I recently up my goal for the year, so I need to get on it!
Start dressing better on my "off days" - It's way too easy to throw on yoga pants and a comfy tank. I need to start actually wearing some of the cute clothes I own. It always makes me feel better about myself.
Health:
Lose 5-10 lbs - I am SUPER unhappy about my weight right now, and being SO short, losing just a little would make me feel the difference!
Take yoga 2 times a week - I seriously love the way I feel after a good yoga class. My gym offers 3 evening classes, so there's no reason I shouldn't be going.
Financial:
Put $300 into my savings - Now that I'm staying with my BFF for a bit, I want to save some of the extra money I am not having to spend on rent.
What do you guys think? Are you going to "Go for the Goal"?