I can NOT believe I've already been blogging for two years! It has gone by so fast, and I fall more in love with this hobby all the time.
As a thank you to everyone who reads, comments, promotes and supports me here at Brunch with Amber, I've got some surprises up my sleeve for you!
I wanted to host a giveaway of course, but I thought why stop with just ONE giveaway? Why not ONE week of giveaways?!
So that's what y'all will get. Starting today and all the way through Friday, there will be a giveaway everyday. Better chances of winning something! :)
So be sure to come by and see what's up for grabs each day.
Each giveaway will be open for a week, so that way you'll have more time to get your entries in.
Let's get this party started!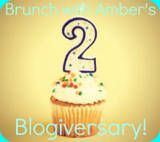 First up for grabs, is a "Girly Prize Package" from yours truly..
3 piece nail file set by Ulta
Mini snake skin wristlet by Naturalizer
Moonlight Path body lotion by Bath & Body Works
Mint Apple nail polish by Sinful Colors
Nail Junkie nail polish by Sinful Colors
Zebra-print heart earrings by Cato
Passionfruit guava lip gloss by Bath & Body Works
This whole package is valued at $60!!!
Wanna win it for yourself? Use the rafflecopter widget below!
Good luck!
a Rafflecopter giveaway