TGIfreakin'F. It's a 3 day weekend!
I always see people linking up with
Ashley
for Friday's Letters & it looks fun, so I wanted to jump in. :) Everyone needs a little Friday fun!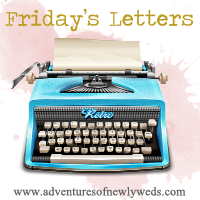 Dear Nate, I sure am going to miss you when you're gone, but I hope you have a good time with weather in the 50s while I enjoy Memorial Day weekend in the 90s. ;) Dear patients, quit whining so much about allergies. Everyone has them this year. You are not suffering from a life changing head cold. Dear blog friends, I'm pretty sure I love you more than some people I know IRL. Don't change. ;) Dear Jill, thanks for always having a way to figure out whatever predicament I've gotten myself into. I love you like whoa. Dear ankle, how's about ya quit hurting so I can start running again? It's summah time and this girl needs to look good in her bikini. Dear stomach, I'd appreciate it if you didn't crave sweets so much. Also, try and look as flat as possible when I go try on (and hopefully buy) a swimsuit this weekend! Dear Bink, why are you so adorable? Seriously. Dear neighbors, take out your effing trash. Thanks! Dear birthday, you are 2 months from today and I'm super excited even though I have no plans yet!
Hope y'all have a FABULOUS weekend!