Remember back when I promised to do a giveaway once I reached 500 followers?

Here I am about 50 followers later, just now doing this. Sorry guys!

It still shocks me each day how many of you actually follow my life and read what I have to say. I want you all to know how much I love and appreciate you. Blogging has quickly become one of my favorites, and I couldn't do it without the support you guys give! XOXO

When I first started brainstorming what I wanted to giveaway, I knew I wanted it to be something that represents ME.

What better than COFFEE? If you know me, you know I can't go without my morning caffeine.

So, without further adieu, I present to you.. the Thanks a latte giveaway!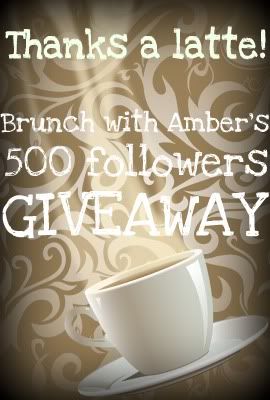 The lucky winner will receive the following:
The Morning Glory Blue coffee sleeve from
Etsy shop CreamNoSugar


I have a sleeve from this shop, and it is awesome! It's always in my purse, so I can use it anytime I grab a coffee. Also? My Starbucks gives me a discount for having my own sleeve. Going green one coffee at a time! ;)
Keep Calm and Coffee On 8x10 poster from
Etsy shop KeepCalmShop


Along with these fab coffee goodies, you will also receive a $20 starbucks gift card!
Please enter using the Rafflecopter form below!
Good LUCK!
a Rafflecopter giveaway