It's my first time to link up with
Kerbi
for Tasteful Thursday, and if you want to learn new and exciting recipes, you should head over to her blog and link up too! :)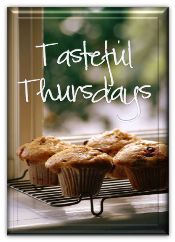 Okay, so I REALLY like to cook.. I think it's a rewarding thing for me. I like when people say how much they like it. It's an ego boost or something. However, I'm not creative enough to come up with my own recipes, (I'm afraid to mess something up) so I enjoy looking up recipes instead.
This is a Rachael Ray recipe. I LOVE her! It became a fast favorite for me. I make it for everyone. :) My boyfriend loves it. My family loves it. My friends love it. EVERYONE loves it.
Make it, I guarantee your people will love it too!
-2 tablespoons extra virgin olive oil (EVOO)
-Salt and pepper (enough to taste)
-1 large onion, finely chopped
-2 carrots, peeled and grated
-3-4 cloves garlic, finely chopped
-4 cups chicken broth (32 ounces)
-1 can Italian crushed tomatoes (28 ounces)
-1 pound lasagna noodles, broken into jagged pieces
-1 cup basil leaves, torn (I use the seasoning in the jar and eyeball it)
In a soup pot, heat the EVOO over medium-high heat.
Add the beef, season with salt and pepper and cook until browned, 3-4 minutes.
Stir in the onion, carrots and garlic and cook until softened, 5-7 minutes.
Stir in 2 cups water, the chicken broth and tomatoes; cover and bring to a boil.
Add the pasta and cook until al dente, about 15 minutes.
Stir in the basil and season with salt and pepper.
Serve to your family and friends and listen as they praise your cooking skills! ;)