Today, I'm linking up with some lovely ladies for their Thankful Blog Challenge!
I'm THANKful for the special people in my life.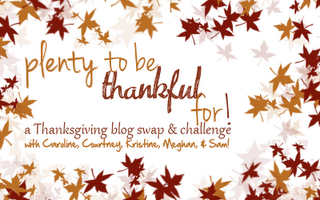 My parents - I may be biased, but I truly have the most awesome set of parents that any girl could ask for! They've always been 100% supportive.
My sweet grandparents - They're the epitome of true love, and I can only hope one day to have what they have. They love spoiling me, and I'll always be the favorite because I'm the first born. ;)
My siblings (Alyssha not pictured) - I know that they would do anything for me at the drop of a hat. The best thing about having siblings is that you have friends for life.
Nate's family - Never in my life have I felt more "at home" with people that weren't blood related to me. They've been so amazing these past 3 years. I was certainly blessed when I started dating Nate.
Nate - The love of my life and my better half. He truly makes me a better person! Y'all know how much I adore this man!
Jillian - My bestest friend in the whole wide world. She's more than a best friend, she's my sister. She seriously knows everything about me, and still loves me for it!
The amazing women I've met through blogging - some of you are in this picture, some of you aren't. Thanks for the best support system out there!