Today I'm linking up with one of the sweetest bloggers EVER, Michelle over at
a little bit of this & that
for a link-up she created called Meet & Greet - Blog Edition.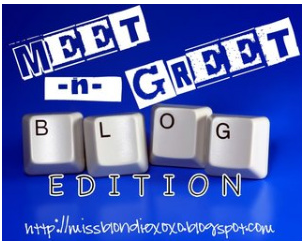 When she created this, the idea she had was so that we would all find new blogs & mingle with one another. We all love the blog world and have made tons of fabulous friends, right? So why not make more?
If you're new here, let me tell you a little about myself. If you're not new here, well then shut up and listen because you love me! ;)
Brunch with Amber was created in June 2010 and was originally named A Day in the Life of Amber. One day, while bored at work, I stumbled across a blog and thought to myself, "Wow, how cool is this? I could totally do this too!" And so it began.. my everyday obsession. I could not imagine a life without my pretty little blog or all of the amazing friends that came with this blog. So thanks random blog, I wish I had remembered who you were so I could give you proper credit! :)
Here at Brunch with Amber I don't blog about certain topics. I blog about whatever pops into my fast paced, anxiety stricken, 90 mile a minute brain. I love coffee, wine, friends & family and my super hot boyfriend, so you'll probably hear about those things a lot.
Posts that will allow you to get to know me better:
10 things
In case you wanna be my BFF..
Bloggy Milestone!
Meet Amber
For me? Oh, you shouldn't have!
Posts that are my personal favorites:
Let's reflect on the past 2 years
2010 - A year in pictures
Dallas Blogger Meetup RECAP
Young & Awkward
Savannah, GA Trip Recap
which goes along w/
Put Some South in your Mouth, Y'all!
Posts that are deemed "popular":
Double Whammy Post
Alone or not alone?
Today is a VERY special day
- this is my recent giveaway post, which closes tonight. Go enter if you haven't already! :)
Can you guys see my head getting bigger?
Target Tuesday - Crossbody Bags
Also, if you'd like to see what people type in to the search engines and it brings them to my blog, you can go see my
Google say whaaat?!
post.
It's quite interesting if I do say so myself.
If you like what you see here at Brunch with Amber, follow me and I promise you'll love me! :)