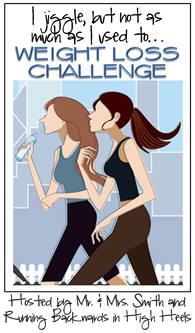 I have a confession to make.
I slacked on exercising this week.
I ate my weight in Italian food on 2 different occasions this week.
BUT I drank a lot of water. Does that count for something?
Needless to say, when I hopped on the scale this morning, I just KNEW that I was going to have gained. I was mentally prepared for it, but was going to hate to have to break the news to you guys.
My alarm went off and before I got in the shower, I stripped down (hey, we all weigh naked!) and I had lost 0.5 pounds.. AGAIN!
So, I'm down 1 pound total. I know last week, I was disappointed with half a pound, but that's because I busted my ass trying to lose it. This week, I was shocked I lost anything, so I'm happy with it.
I promise I'll do MUCH better. I feel better when I do good, and it's a better support system when I do good. :)
The end!
P.S. Go enter my lovely friend
Heather's
giveaway!
She hit 100 followers, and it's full of fun, girly things that we all LOVE! Go check it out!