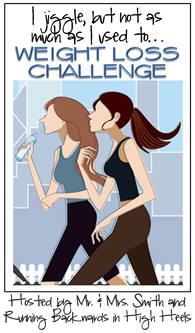 Okay, so this week for exercise I have been doing the C25K program and a Walk/Kick at home video which consists of aerobic walking and beginning kickboxing.
I have modified my diet to 1200 calories a day. And since starting the challenge, I actually haven't even hit my 1200. My fitness pal tells me each day I'm going to go into starvation mode. I guess I need to eat dessert more often? I'm not starving myself. I get full at each meal, so I don't know.
Anyway, the final outcome is......
I lost 0.5 pounds. Only half a pound.
I was a bit disappointed when I got on the scale this morning. I expected more. I am an over-achiever, but still.. I guess I'll just shoot for more next week! :)