Okay, I'm doing it. I'm linking up with one of my fave blog friends,
Lindsey
and
Rachel
for their 8 week long weight loss challenge.
I struggled with whether or not to link up because I'm afraid I won't lose any, and I'll disappoint myself and the other girls linking up, but I decided to go ahead and do it.
If I don't lose any, I'll at least be here for support for you guys! :)
So, here goes nothing!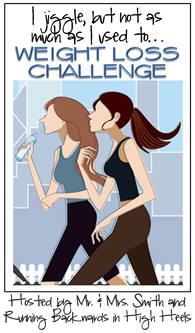 Back in high school, I never had to watch my weight. Mainly because I ran cross country, played tennis and was a cheerleader. I didn't even have to watch what I ate. My best friend and I would go to Sonic for cheeseburgers and fries every day after school. Now, I can't even look at a cheeseburger without gaining an ounce.
I know by being more active, it'll definitely help. So, that's my plan!
So, according to the myfitnesspal BMI calculator the healthy weight range for someone my height, 4'11" is between 92 and 124 pounds.



My goal:


Goal weight is 110 pounds.
This week I am currently at 130 pounds. This means I need to lose 20 pounds. I can do this!



My fitness plan:


I will be doing the Couch to 5k program 3 times a week, yoga and pilates at my gym. I do have the Jillian Michaels 30 day shred DVD, but last time I attempted that, I thought I was going to die, and was so sore I couldn't move for days. Any tips anyone?

My eating plan:
I hate diets. I never stick to them, but when I go for groceries, I never buy anything that's terribly UN-healthy either. I already drink water in place of soda, but I do plan to stop eating after 7 or 8 at night. I also plan to incorporate more fruits and veggies into my diet.

I have the myfitnesspal app on my phone, and will hopefully be using that more to count my calories!
I'd love to offer support and motivation for anyone doing the challenge. So let's email or gchat! amber.willmon@gmail.com
:)