Today, I'm going to do 2 posts in one.. so hold tight!
First up, I'm linking with the oh so sweet
Meghan
for her Top 5 Thursdays. The topic this week is VACAY spots!
Here are mine (in no specific order, I just can't choose!)
1. Italy
I'm Italian, and have always dreamed of going and visiting the country, and of course enjoying that fabulous food!
2. New York City
I've never been before, and would LOVE to go for New Year's Eve. I'm sure the city would be jam packed, but all the more fun! :)
3. Bahamas
I'm like a fish outta water. I love anything tropical, and could live by the sand with a drink in hand!
4. London
I've always had a thing for those accents ;)
5. Las Vegas
Go ahead, make fun. Pick on me for being "sheltered". I'm aware that I'm the only person in America that's never been to Vegas.
Are you done laughing at me? Okay good.
Now, on to the Jiggle Challenge!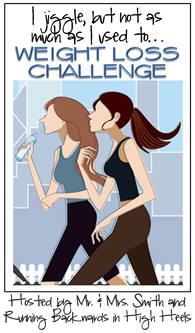 This week I lost 2.5 lbs!
I was shocked! I thought with all the Easter goodies, I wouldn't lose the most that I've lost the whole challenge, but I did it.
You can imagine that I was pretty pleased. :)
So, that's a total of 3.5 lbs since beginning the challenge. Yay!