Day {six}
- I
{LOVE}
blogging because...

I have learned more than I thought I would have ever learned in these 8 short months.


Back in June of 2010, I was bored at my desk job, and was playing around online. I came across some blog accidentally, and I thought it looked interesting. I looked around for a little bit, and thought to myself,
"Hey, I could do this too!"


Sooo, I sat down and did it, and here I am today. 8 months later.


Ever since I was a little girl, I've used writing or journaling as my "outlet" I guess you could say. Whether it be writing a letter to someone and never delivering it, writing poetry, writing down my feelings, or just writing whatever comes to my head; I write because it feels good. It makes me feel better.


Never in a million years did I think I would have so many AWESOME people who actually care about what I have to say! You people really do read all about my life. Hell, some of you even read EVERY day.


It still amazes me, and I'm so very thankful for all of you! :)


The blogging community has become something that I've gotten into SO much, and it's something I love and enjoy a lot!


I consider some of my blog buddies some of my greatest friends. I've yet to meet any of you in real life (sad day), but we tweet a lot, chat on here, email, and all that fun stuff.

I look forward to meeting a good chunk of you at the Dallas Blogger Meetup in a couple of months! Yaaaay! :)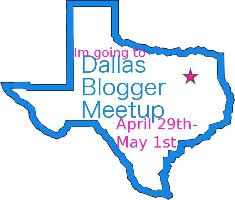 And last but not least, you accept me for who I really am. That, my friends is why I LOVE blogging. ;)