Well that's what you're going to get with me today!

I've got an interview in a little over an hour (yay me!) so I've gotta make this short and sweet.

I'm getting very close to 100 followers and that makes me very excited. FYI - if you are a new follower, welcome and also please catch up on old blogs so you know why I haven't been updating as often.

If I get this job today, it's a full time position, I will be able to get my own place, AGAIN, and have internet access, thank GOD!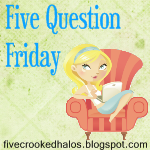 1. Do you feel guilty spending money on yourself?


Sometimes, I have what they call "buyer's remorse" but then I feel all better once I wear it and see how fabulous it looks on me. ;)



2. How well do you know your neighbors?


I don't really. I don't socialize with random people.



3. What age are you looking forward to being?


I'm fine with 23 for now. I'm legal to do whatever I want, and still young enough to be considered sexy!



4. Do you get excited when the mail comes? Why?


Not anymore, because now I have bills. When I was a kid, and all I got was birthday cards with money, hell yes I was excited!



5. What is your earliest childhood memory?


Holding my baby sister (who's 2 years younger) when her and my mom came home from the hospital. Awwwww! ;)

I've participated in many blog hops this Friday, and one new one that I've never done before for whatever reason -



This bitch is awesome, and if you decide to follow her, by God, you BETTER leave her skankalicious ass some comments! ;)

Hope you all have a kick ass weekend!