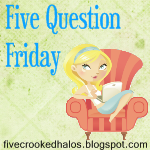 Time for some 5 question friday. If you want to play along, just click above and don't forget to go back and link up!

1. How many pets do you have?
I don't have any of my own. :( I've been wanting a puppy so bad for so long, but since I was in school, I had no time to take care of one. Now, that I'm living with my dad - he's got Rocky, a boston terrier (my little brother) and my sister has Hallie, a chihuahua/rat terrier mix (my sweet niece), whose 4th birthday was yesterday. Love her so much!

Isn't she precious?!


2. If you could switch places with anyone in the world for one day, who would it be?
An incredibly successful doctor who does amazing research, someone who thoroughly enjoys their job working with people.

3. What is your favorite money saving tip?
Sadly, I don't have any. If you know of any please pass them my way. I'm the worst person in the world when it comes to saving money. It burns a hole in my pocket, or bank account, whatever.

4. What do you want your kids to be when they grow up?
Whatever they want to be. Anything that makes them happy, and they make a decent living doing. They should be passionate and enjoy waking up for work in the mornings.

5. What is your favorite quote?
I have a lot, here's my top fave 5:

-I'm like the most expensive, exotic item on a gourmet menu. People can wonder about the sensuous delights of the dish, but they can't afford such an expensive luxury.

-Never ask a girl where she's from. If she's from Texas, she'll tell you, and if she's not, there's no need to embarass her.

-I believe that everything happens for a reason. People change so that you can learn to let go. Things go wrong so that you appreciate them when they're right. You believe lies so you eventually learn to trust no one but yourself & sometimes good things fall apart so better things can fall together.

-If it isn't mad, passionate, extraordinary love, then it's a waste of your time. There are too many mediocre things in life, and love shouldn't be one of them.

-A true romance is not one in which you lose yourself, but one in which you find yourself.