Thank God it's Friday!!! :)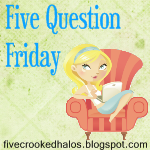 1.
What is one food you could eat everyday?
Pasta or caesar salad. I'm a foodie. Anything that tastes good, I could eat everyday!
2.
Are you working in the career you thought you would be when you were 18?
Well, close. I thought I'd already be a nurse by now, but instead I am almost a medical assistant with plans to go back to nursing school in the spring. Close enough right?!
3.
What is something that you wish you would have done when you were younger and you didn't?
Good question. I feel like I had good childhood/adolescent years. I'll come back to ya on that one! ;)
4.
What color are your kitchen walls?
White or off-white. I live in an apartment, which means I don't get to paint them. :( I can't wait to have a house to decorate one day! :)
5. Do you remember what your very first favorite song was?
EVER? Like as a baby? No. As a kid? I'm sure it was Spice Girls. I was OBSESSED. It was kinda sick, HA!