I am SO sorry I'm just now updating. I feel so bad for missing you guys! Yesterday was the BF's birthday, so I spent my day with him up until my dreaded doctor's appointment and then I had class. So anyway!
I have been finding more things to do on my blog for certain days of the week, and I LOVE it! :) So, today I'm doing "Five Question Friday" with Andrea from
Five Crooked Halos
. You just answer the 5 questions, and go back to her blog and link up! Ready?
Here we go!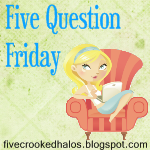 1.
What is one thing you miss the most about childhood?


Honestly, not having as much responsibility as I have now. When my only worry in life was which color popsicle I wanted that day.



2. Are you still friends with your friends from high school?


Some of them, yes. A lot of my friends from high school are already married and/or having babies.



3. Is there a catch phrase, cliche, or word that just drives you bonkers every time you hear it?


Oh yes. I get annoyed by words easily. The most gross word in the English language is "moist". I want to gag just typing it out! It just sounds sick.



4. What is one thing that you think symbolizes America...besides "Old Glory"?


The colors red, white and blue. Of course! ;) When I think of the military, I seem to think of our country. I know every country has a military of their own, but America really sticks to mind.



5. What are your 4th of July weekend plans?



Friday - birthday dinner for the BF with his sweet family.




Saturday - either a BBQ with the BF's co-workers or louging by the pool all day and workin' on my tan. ;)




Sunday - hopefully catching a fireworks show somewhere




Monday - no work or class!!! :)





I'm also participating in New Friend Fridays with

The Girl Creative

and

The Trendy Treehouse

. And Friday Follow-Me hosted by

The Kiddie Fashionista

,

Momma's Pixie Dreams and My Crazy Kind of Wonderful

.